Native Plants for Craven County Landscapes
Find this page at:
go.ncsu.edu/readext?645641
en Español

El inglés es el idioma de control de esta página. En la medida en que haya algún conflicto entre la traducción al inglés y la traducción, el inglés prevalece.

Al hacer clic en el enlace de traducción se activa un servicio de traducción gratuito para convertir la página al español. Al igual que con cualquier traducción por Internet, la conversión no es sensible al contexto y puede que no traduzca el texto en su significado original. NC State Extension no garantiza la exactitud del texto traducido. Por favor, tenga en cuenta que algunas aplicaciones y/o servicios pueden no funcionar como se espera cuando se traducen.

English is the controlling language of this page. To the extent there is any conflict between the English text and the translation, English controls.

Clicking on the translation link activates a free translation service to convert the page to Spanish. As with any Internet translation, the conversion is not context-sensitive and may not translate the text to its original meaning. NC State Extension does not guarantee the accuracy of the translated text. Please note that some applications and/or services may not function as expected when translated.

Collapse ▲
This site contains native plant suggestions for Craven County and the surrounding area. It is by no means a complete listing, and will be updated from time to time. Remember that with landscape, parking lot and streetscape sites, we're generally not dealing with native conditions, and consequently quite a few native species are not going to perform well in those locations. A "natives only" approach can therefore limit our options and make it very difficult to achieve the healthy tree canopies and landscapes needed for both people and wildlife.
Nevertheless, there are many benefits to the use of native plants, and many native plants that could be used but are not widely known. Furthermore, depending on the needs of the species in question, modifications to the planting site and microclimate can greatly increase the likelihood of success. (Additional pictures provided by Tom Glasgow.)
Acer barbatum  – Southern Sugar Maple  or Florida Maple   According to a 1993 US Forest Service fact sheet (Gilman and Watson),  Acer barbatum should actually be designated A. saccharum var. floridum, making it a variety of the sugar maple rather than a separate species. Not uncommon in the higher ground forest understory in Craven County. Specimens at the Ag. Building in 1992 and 1993 have done quite well. 
 Acer leucoderme – Chalkbark Maple     Smaller and slower growing than the southern sugar maple; probably distributed more heavily towards the Piedmont region of our state. Good drought tolerance, attractive bark in winter. Fall color can vary from yellow to orange to red.
Acer rubrum – Red Maple     Wetland species in our part of the state. Should be located very carefully in landscape conditions (avoid all-day full sun, droughty areas, compacted soils in all-day sun, etc.). The parking lots of Eastern NC are full of declining and dying red maples. Best reserved for less disturbed, natural sites.
 Alnus serrulata – Common, Tag or Hazel Alder     Related to the birches. Extremely wide native range stretching from Canada to Louisiana. Shrubby, small tree, found mostly along streams, lakes or ditches. Attractive male catkins noticeable through the winter and into early spring.  Attractive but rarely utilized native plant.    
Asimina triloba – Pawpaw     Small tree (but possibly up to 30-40 feet in the wild) with attractive foliage and pyramidal to rounded form. Tends to sucker and form small colonies in the forest understory, which can be an attractive feature of this species. Unique option for wooded properties with adequate moisture. Interest seems to be growing in pawpaw as an alternative fruit tree crop. Not prone to insect and disease problems.
Baccharis halimifolia – Groundsel Bush     Provides the show of soft, cottony-white "flower" color along the highways in the fall. The actual flowers are small and inconspicuous. The white color is provided by silky hairs attached to the flowers. Exceptionally versatile. Can deal with sun, shade, wet sites, dry sites and anything in between. Too weedy for some gardeners.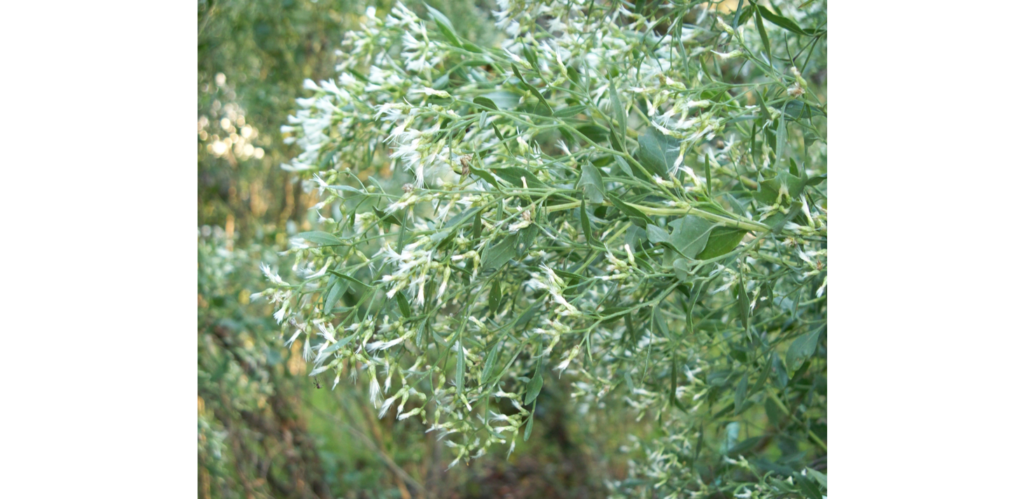 Betula nigra – River Birch     Not as common or widespread as some other native tree species (such as sweetgum or red maple), but certainly part of Craven County's native tree mix. The above comments on locating red maple can be applied to river birch. Also a very poor choice for parking lot or similar situations. 'Summer Cascade' is a weeping cultivar that may be of interest to some gardeners. 
Callicarpa americana – American Beauty-berry     Deciduous shrub with very showy purple/lavender fruit along the stems in late summer and fall. Also common in the maritime forest and near the dunes. Good salt spray and drought tolerance. Superb native shrub for Craven County. 
Carpinus caroliniana – American Hornbeam, Blue Beech, Ironwood, Musclewood, Water Beech     Small to medium size tree with attractive beech-like foliage and distinctive bark that is thin, light in color, and usually smooth. Trunks and branches develop a muscled or (as Dirr describes it) an "irregularly fluted appearance". American hornbeam is one of the most common tree species encountered in our wetlands and the margins of wetlands. Good choice for shady and/or wet sites. 
Cephalanthus occidentalis – Buttonbush     Large shrub or small tree; attractive deciduous foliage. White flowers are arranged in unique and striking globular heads. Good for wet sites; also seems to tolerate normal to dryer sites in the landscape.
Chamaecyparis thyoides – Atlantic Whitecedar     Considered to be tolerant of wet soils, but in our local native stands, the pocosin soil has a very acidic pH and is capable of drying out somewhat in between wet periods. Based on the loss of some Atlantic whitecedar at the Agricultural Building to phytophthora root rot a number of years ago, this species may not tolerate heavy clay & constantly wet landscape sites with high pH (the low or acidic pH may help in reducing disease pressure). Impressive local stands can be found at Catfish Lake, among other places. Increased interest in recent years in reintroducing this species to natural sites.
Clethra alnifolia – Clethra or Summersweet     Deciduous shrub with spires of fragrant white flowers in summer. Tends to spread and colonize. Found in margins of wetlands in Craven County. May grow to a height of 4 to 8 feet or more. Good butterfly garden plant, and works well in shady sites. Noted for yellow to gold fall foliage.
Cornus amomum – Silky Dogwood     Fast growing, sprawling deciduous shrub for landscapes with a lot of room. Would be an excellent component of a screen or naturalized area. Will thrive in shady, moist sites, but will also tolerate dry & full sun locations. Beautiful foliage. Flowers and fruit are not showy but are certainly attractive and noticeable. We should be using more of this! 
Cornus florida – Flowering Dogwood     Beautiful native tree with four-season landscape impact. Possibly our most misused and abused native tree. Best reserved for the more natural, least-disturbed areas of the landscape:  margins of wooded areas, well-drained organic soil, shade during part of the day. Avoid the all-day full sun, wet sites, brick-hard compacted landscape soils, etc.
Crataegus spp. – Hawthorn     This is a challenging genus to become familiar with, due to a large number of species across the U.S. and a tendency towards hybridization in the wild. Trees of the Southeastern U.S. (Duncan and Duncan) suggests there are about 35 species in the SE. Hawthorns are easily recognized in the wild by the presence of large thorns over many of the branches and even trunks. If you wish to know precisely which hawthorn you're looking at, a foliage sample to your local Extension office would be suggested. When supporting wildlife is a priority, hawthorns are a logical choice as they are very helpful for birds in particular. 
Cyrilla racemiflora – Leatherwood, Swamp Cyrilla      Large shrub or small tree with racemes of white flowers in summer. Could be described as semi-deciduous in the Craven County area. Definitely should not lose all of its foliage, but will thin out a bit and present some red coloration on some leaves. Attractive plant and quite tough once established. Can tolerate moist sites; high soil pH could be a problem. Beautiful plant and not used as frequently as it should be.   
Diospyros virginiana – Persimmon     Large, tough native tree found across the state. Long-lived and generally not prone to serious pest problems, although leaf spot and fall webworm damage is not uncommon. Adaptable to a range of soil pH levels; tolerates dry areas well. Male cultivars (to avoid fruit) might be a good addition to our landscape mix. Good fall color. 
Euonymus americanus  – Strawberry Bush, Hearts-a Burstin     Deciduous euonymus widely distributed from New York to Florida and west to Texas. Not uncommon in the Craven County area. Notable primarily for vivid bright red seeds hanging from the opened, pink capsules in late summer/early fall. Locate in semi-shade to shade.
Fagus grandifolia – American Beech     One of the most beautiful and distinctive of all our native hardwoods. Not easy to find in the nursery/garden center trade, but certainly available through nurseries that specialize in native trees. Should be protected during development of new properties; provide at least 1 foot per inch of trunk diameter measured 4 feet above the ground. For example, an American beech with a 24-inch diameter measured 4 feet above the ground should have a "do not disturb" circle with a radius of at least 24 feet. 1.5 feet per inch of trunk diameter would be even better.
Fothergilla gardenia – Dwarf Fothergilla     Related to witchhazel and sweetgum. Noteworthy for vivid fall foliage (yellow to orange to scarlet) and spires of white "bottlebrush" flowers in spring. Semi-shade or full sun; flowers and fall color will be best in sunny locations. Relatively restrained in size, maturing at perhaps five feet or so in height. Absolutely a "must have" for the serious native plants gardener.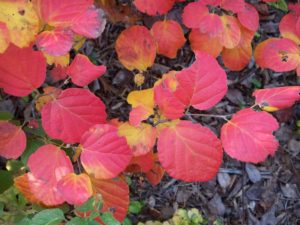 Gelsemium sempervirens – Carolina Jessamine     Evergreen vine with showy yellow flowers during late winter and early spring. Very adaptable to a wide range of landscape sites. Works well on trellises and fences. This is an aggressive vine that will need cutting back once or twice a year; also watch for runners and seedlings. Another consideration is high flammability in the event of a fire on site. Locate away from the house, not adjacent. See Firewise Landscaping in North Carolina for relevant information on Carolina jessamine and other native plants.
Gordonia lasianthus – Loblolly Bay     Tall growing evergreen with a somewhat narrowly pyramidal or conical outline. Very attractive white flowers in mid summer, easily viewed while driving down Hwy. 70 in between Cove City and Dover, along Catfish Lake Farm Road, and numerous other vantage points around Craven County. Widespread, but very specialized in its adaptability. Tends to be a pocosin soil plant and is not easily transplanted into landscape sites. Should be a high priority for preservation on properties under development. In the same family (Theaceae) as camellias, and this can be seen in the flowers. 
Ilex cassine – Dahoon Holly     Small holly tree with unusual foliage (for a holly) and nice fruit set. One of the parents, along with American holly, of 'Fosteri' and 'Savannah' hollies. 
Ilex opaca – American Holly     The holly foliage and berries we associate with the Christmas season. In our local woods, generally found growing underneath American beech along the higher ridges. Reasonably well adapted to landscape conditions, but probably should not be located in the tougher sites (such as compacted soil + all-day full sun). 
Ilex verticillata – Winterberry     A deciduous holly shrub often seen along local streams and creeks. For reliable fruit set – unless you live along a stream with a good native stand – you should provide for both a named female cultivar and a named male pollinator. Even this is not quite enough detail:  You'll need to do some homework and make sure your male and female are of the same type (Southern or Northern). A good pairing at the Agricultural Building has been 'Winter Red' and 'Southern Gentleman'. 
Ilex vomitoria – Yaupon Holly     Available in the nursery trade in various dwarf forms, as well as its more usual size and growth habit (large shrub). Evergreen, quite adaptable to landscape conditions and a top choice for foundation plants or (using the larger cultivars) component of privacy screens. Found in a variety of locations in nature, including sandy maritime forest soils. Female plants produce exceptionally attractive fruit, especially on wild plants in locations such as Cedar Point  (National Forest site in Carteret County).
Itea virginica – Virginia Sweetspire     Common along streams in the forest understory. Deciduous small to medium shrub valued for attractive summer and fall foliage, and racemes of fragrant white flowers in spring. Sun or shade; suitable for wet sites. There are numerous cultivars now on the market, including several dwarf choices when landscape space is limited. 
Juniperus virginiana – Eastern Redcedar     A native conifer which is (in this Extension agent's humble opinion) without peer in Eastern NC landscapes. Spruces and firs are for the foothills westward into the mountains. And we can also forget about most of the showy, ornamental pine species that residents of cooler climates can enjoy. In our part of the state, tree-form conifer choices narrow down in a hurry to the redcedar and a handful of other options. But the redcedar should be a treasured tree just about anywhere (at least, anywhere outside commercial apple producing regions). Excellent drought tolerance, excellent tolerance of high pH soils, and interesting foliage and bark characteristics make this a tremendously important tree for landscapes and along streets in Craven County. Avoid wet sites. Also be aware that all plant species are susceptible to various disease and insect problems. Annosus root and butt rot is one of the most common problems seen on redcedar, and would be a likely explanation for a single cedar or a group of closely planted cedars dying rapidly. 
Kosteletzkya pentacarpos (previously K. virginicus) – Seashore Mallow    Frequently seen in Craven County in late summer, along ditches, in marshes and along the sunny shorelines of streams, when plants produce an abundance of bright pink flowers. Will reseed in landscapes but not to the point of weediness. One of our showiest perennials.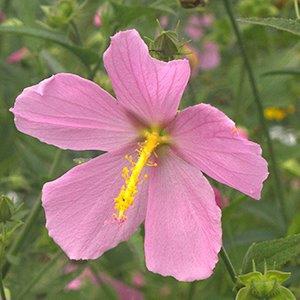 Liquidambar styraciflua – Sweetgum     Don't be put off too badly by the "gumballs". This tree has a lot going for it:  excellent fall color; tolerance of wet sites or dry sites; and better than average tolerance of storm winds, just for starters. 'Slender Silhouette' is a narrow, upright-growing cultivar which should allow easier incorporation into tight landscape sites. 'Rotundiloba' is the cultivar with the funny-looking leaves and no "gumballs". Give it room to grow, with plenty of distance from the house in case it does break up in a storm, and sweetgum might make a great addition to your landscape. 
Lonicera sempervirens – Coral Honeysuckle     A versatile local vine, found along forest roadsides and even behind the dunes at Fort Macon State Park. Brilliant red flowers in spring and summer. Works well on trellises; much easier to manage than Gelsemium. Provide plenty of sun for good flower production.
Magnolia grandiflora – Southern Magnolia     Superb broadleaf evergreen for Craven County landscapes. Think positive, and don't be influenced by the arguments about messy fruit and leaves; this tree is so superior in all other categories that we really need to overlook the minor nuisances. Unique and fragrant flowers; beautiful foliage; tolerance of a wide range of landscape soils; tolerance of wetness;  and let's concede that even if the fruit can be a bit messy, the bright red seeds are highly ornamental up close. Surprisingly, southern magnolia has excellent tolerance of storm winds, as noted anecdotally and in scientific studies/surveys. Not a tree you tend to see laying sideways after a storm. 
Magnolia tripetala – Umbrella Magnolia     A native deciduous magnolia. Abundant as an understory tree on the margins of wetlands and on higher ground in the Croatan Forest and elsewhere. Leaves are 10" to 24" long, and arranged in a whorled, umbrella-like fashion imparting a tropical look when viewed from underneath the canopy. Large white flowers with pointed petals appear in April (not pleasantly fragrant, compared with southern magnolia). Will be somewhat difficult to locate in the nursery/garden center trade but certainly worth preserving where you find them. Sometimes confused with paw paw, but umbrella magnolia leaves are much larger, and paw paw leaves are arranged alternatively along the stem, not whorled. .        
Magnolia virginiana – Sweetbay Magnolia     Will be far more particular about location than the southern magnolia. Tends to be a wetlands/understory tree in the Craven County area. Light green & evergreen foliage with easily recognized silvery leaf undersides. Attractive smooth bark. Flowers are not particularly noticeable or showy. But in the right location this is a highly attractive landscape tree. Frequently misused by placement in parking lots or adjacent to buildings with a full southern/western exposure. Needs to be carefully located! 
Morella cerifera – Waxmyrtle     This one doesn't have to be carefully located. It will grow virtually anywhere. Sun, shade, wet, dry, high pH, low pH – it doesn't seem to matter. A large shrub that can encroach into adjacent plantings not only by its girth but also by runners and new plants. Give it plenty of room. (Formerly known by the botanical name Myrica cerifera.)       
Nyssa aquatic – Water Tupelo     Large tree with a pronounced flare at the base of the trunk, similar in appearance to the lower trunks of baldcypress. Of course, water tupelo doesn't have the cypress knees. Frequently found in standing water or in wet areas along streams. Produces interesting blue/black drupes resembling olives. 
Nyssa sylvatica – Black Gum     Picturesque branching habit, interesting dark blue fruit and brilliant red fall color under the right weather conditions. Mid-sized tree that is not commonly found in the trade but which shows up frequently in the mix of trees left behind after development of a new property. Leafspot is common on this species but doesn't seem to be a major problem. Worth preserving if you have one.
Osmanthus americanus – Devilwood     Large shrub or potentially a small tree with glossy evergreen foliage. Common in the maritime forest. Fragrant, small flowers in the springtime. Will retain better color in shade to semi-shade; not a good choice for the hotter full sun landscape sites. Would be a nice addition to a privacy screen. Definitely a plant that should be given more consideration in SE landscapes. 
Osmunda cinnamomea  – Cinnamon Fern     One of our largest and showiest native ferns. Deciduous. Upright sweeping fronds, up to 4-5 feet long. In landscape sites, our local ferns will benefit not only from shade, but also careful soil preparation incorporating lots of organic matter. 
Osmunda regalis – Royal Fern     Familiar presence in wetlands and along streams, but demonstrates tolerance of normal, well drained landscape soils as well. Will tolerate more sun than most of our local ferns; sometimes found along ditchbanks receiving quite a bit of sun exposure. Deciduous. 
Ostrya virginiana – Hornbeam     Foliage is similar to Carpinus caroliniana  (cited above), but the bark is completely different. Look for a shaggy bark, with relatively long, narrow shreds, as compared with the smooth, muscled appearance of Carpinus bark. Up to 40-50 tall feet in the forest, generally growing underneath the canopies of taller broadleaf trees such as beeches and oaks. Both Carpinus and Ostrya are in the Betulaceae (birch) family. 
Oxydendrum arboreum  – Sourwood    Widespread forest tree across the state, including the Coastal Plain. One of our best native trees for brilliant red fall color. Flowers, borne  on long white racemes during early summer, are much valued by bees and other pollinators. Relatively small-growing species, although 40-50 foot tall individuals are not uncommon. Somewhat irregular growth habit adds interest to naturalized areas. Not well adapted to harsh landscape conditions (such as compacted subsoil + all day full sun), but a great choice for wooded landscapes and sites with original soil profile intact. Definitely underutilized in NC landscapes. 
Persea palustris – Swamp Bay     Widely distributed broadleaf evergreen tree, found in a wide range of sites from the margins of wetlands to drier upland. Leaves are easily recognized by the insect galls on the leaf margins, formed by a type of psyllid. Unfortunately, Persea species in the SE United States are under serious threat from an introduced Laurel Wilt Disease.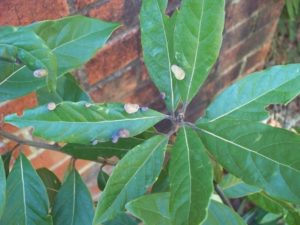 Polystichum acrostichoides – Christmas Fern     Evergreen fern. Can colonize large patches of the forest floor. Definitely more suited to shady sites in the forest or landscape.
Quercus michauxii  – Swamp Chestnut Oak   Widespread in bottomlands of Eastern NC; in the Eastern U.S. can be found from New Jersey down to Florida, and west to Texas, Missouri and Indiana. There are reports of successful landscape/streetscape use in Goldsboro, Clinton, Warsaw and elsewhere. An underutilized opportunity among our large native species? 
Quercus shumardii – Shumard Oak     Up to 40-60 feet high and wide. Attractive foliage. Other important attributes include good tolerance to drought and high soil pH. Shumard oak specimens can be found in local woods and downtown parks, landscapes and street plantings where good performance has been noted. Highly recommended.
Quercus virginiana – Live Oak     Perhaps our best large tree for this part of the state, native or otherwise. Evergreen, compartmentalizes wounds extremely well, tolerant of a wide range of landsape conditions, one of the best for withstanding hurricane winds, interesting branch structure … and the list of attributes goes on. Will develop prominent surface roots as the years go by. The best approach with live oak is to mulch all the way out to the ends of the branches and keep the mowing equipment away from the trunk and roots. Adjacent tall shade from trees such as tulip poplar and sweetgum can shade out and kill portions of live oak canopy. 
Rhus copallina – Shining Sumac     Usually forms thickets or colonies, and is notable for bright red fall color and the winged structure along the central axis (rachis) of the compound leaves. Individual plants can reach over 20 feet in height and can function as durable and highly attractive small trees – although a spreading, massing colony is more likely. Use carefully, where space is not an issue.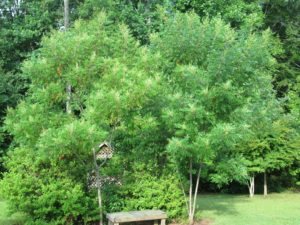 Sabal minor – Blue Palmetto     This is the most northerly-growing native palm species. More of a palmetto shrub than a tree, it is common in wetlands and especially along streams. An attractive and unique feature in shaded landscapes, although scale can be a problem. Can also be extremely invasive as birds spread the seed, so a good maintenance routine would be to remove the long seed-bearing stalks before the seeds begin to mature. 
Sabal palmetto – Cabbage Palm     The South Carolina state tree. A taller growing trunked palm with foliage similar to blue palmetto. Has been widely planted in the Craven County area in recent years, including in sites that would seem a little risky in terms of cold hardiness (for example, in parking lots with no protection from adjoing plants or overhead tree canopy). Has done surprisingly well in a variety of sites, but then again it's been a long time (1989) since we've had a sub zero temperature event. It would probably be wise to situate cabbage palm in more protected landscape locations. Beautiful specimen tree for the landscape, and as tolerant of hurricane winds as anything growing. 
Sambucus canadensis – American Elder     You may not realize it, but you've seen this one many times in flower along roadsides in mid summer. White flowers are borne in large, flat-topped cymes covering the plants. Deciduous, sprawling, somewhat open in habit and reaching 5-10 feet high and wide. Dark purple to blackish fruit develop in late summer and are an important source of food for birds. Quite adaptable to a variety of landscape conditions, including wet sites. 
Staphylea trifolia  – American Bladderwort     Attractive striated bark, interesting trifoliate foliage and nice white flowers in the spring. Probably best in partial shade and not allowed to become too dry. Very worthwhile small tree which is mostly overlooked by North Carolina gardeners.
Stewartia malacodendron  – Silky Stewartia    Remarkable flowers with pure white petals, purple filaments and blue anthers. A relative of camellias and loblolly-bay, silky stewartia is a great example of a highly desirable tree that is also exceptionally difficult to establish and maintain in landscapes. Chiefly a Coastal Plain species in NC. Worth knowing about primarily so that wild stands and individuals can be protected. 
Styrax americanus – American Snowbell     Small tree, or perhaps more accurately, a tall wispy shrub; found along the edges of woods. Best in organic, forest soils, preferably not in all-day, hot locations. White flowers in spring are remarkable, hanging in clusters of 1-4 at the ends of delicate, pendulous stems.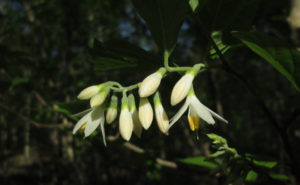 Symplocos tinctoria  – Horse-sugar    Broadleaf evergreen, small to medium tree, found in the forest understory across Craven County. Unique yellow bottlebrush flowers borne directly on the stems in the spring. Frequently found in groups or colonies, adding to the interest and attractiveness of its presence in the woods (or your landscape).
Taxodium distichum – Baldcypress     Obviously very tolerant of wet conditions, but can also grow just fine in normal sites. Very sturdy against hurricane winds. High pH soils can induce chlorosis (yellowing) of foliage. Cypress knees may develop even in sites that aren't wet or under water, and they may develop on younger trees, within only a few years after planting. Locate accordingly; if turf is going to be maintained near the trunk or canopy, you may end up with a real mower-tree conflict. All that said, baldcypress is a majestic, beautiful tree in the proper landscape site.
Viburnum nudum – Smooth Witherod     This native viburnum can be found in eastern North America from Canada down to Florida and across the southern states to Texas. Known for highly lustrous, glossy leaves, white flowers in spring, and blue to purplish back fruits. Often found in wetlands or the margins of wetlands in Craven County. Large shrub or small tree. 
Viburnum prunifolium – Blackhaw Viburnum     As with Viburnum nudum, more than adequate heat tolerance for our region. Slow growing, to probably somewhere between 10 to 15 feet in height under landscape conditions. Creamy white flowers and attractive dark blue fruit; fall color can range from purplish to reddish purplish (deciduous). Very adaptable and can work in sun or shade. Another generally problem-free native plant that really ought to be seeing more widespread use in Craven County. 
Wisteria frutescens –  American Wisteria     Our traditional Japanese and Chinese landscape wisterias have become serious invasive plant problems. They can also cause damage or death to trees by wrapping around and girdling trunks and branches. Native wisterias such as American wisteria are far better behaved and offer a wonderful alternative. Our Master Gardeners have planted 'Amethyst Falls', one of the better known cultivars of American wisteria. 'Amethyst Falls' features fragrant lavender-blue flowers.
Zenobia pulverulenta – Dusty Zenobia     Found locally in bogs, pocosins, wet areas along roadsides and in other difficult sites. Preference for acid soils may limit its use in high-pH landscape sites. Plum to reddish foliage in the fall, striking ericaceous flowers (similar to large blueberry flowers) in the spring. Spreading shrub with an arching, rounded outline; under six feet in height.   Great potential in the right landscape – avoid hot, dry locations with high soil pH and soil compaction.