Local Soybean Trials Funded by NC Soybean Producers Association
For the past years, the North Carolina Soybean Producers Association (NCSPA) has provided funding to NC State Extension Agents for trials and demonstrations. Within Craven County, two trials were established with these funds in 2016. One trial provided a simple side-by-side comparison of soybeans with and without an inoculant and the other was a replicated trail comparing foliar fertilizer treatments to an untreated check. Below are the results and short discussion of each trial and results.
Side-by-Side Inoculant Demonstration
The cooperating producer was Fulcher Brothers Farm in Ernul, NC. About two-thirds of the field soil series is mapped as Rains but the back third is a Leaf Silt Loam. Both fields were consistent in this slight soil variance. The fields were planted on May 25th into 7-inch rows aiming for a final population of 3 plants per foot of row with Asgrow 5935. Each plot was 4.6 acres in size and the only difference in agronomic production was that one field was planted with seed inoculated with Optimize® XC (Bradyrhizobium japonicum) and the adjacent field was not inoculated. Both fields have a history of soybean production and past inoculation. The plot was harvested on November 21, 2016 using grower equipment. Yield was recorded from the grower's yield monitoring equipment.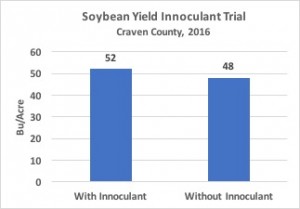 The plot with the inoculant yielded 52 bu/ac and the plot without the inoculant yielded 48 bu/ac. This result is slightly higher than the historic difference of 2-3 bu/ac as provided from data presented by Dr. Jim Dunphy, NCSU Crop Science during a presentation to growers within this region. However, it follows the trend of statistically increasing yield above an untreated check plot. Based on a cost of $4.80 per acre for inoculating seeds and a selling price of $9.80/bu of soybean, a net gain in profit of $34.40 per acre was realized by treating seed with an inoculant.
Soybean Foliar Fertilizer Trial
The cooperating producer was John Kilpatrick of the Fort Barnwell, NC area. Most of the field is mapped as State Loamy Sand but a small inclusion of Tarboro Sand exist in two of the replicated strips. The field was planted on May 14, 2016, into 20-inch rows with DynaGro 32RY55 at 110,000 seeds per acre. Agronomic production for all treatments was identical except for two different foliar applications applied at early bloom on July 8, 2016. Each foliar application was replicated three times with an untreated check plot between each treatment. Each replicated treatment plot was approximately 20 feet wide and 1180 feet. The first treatment consisted of 32 oz/ac of Quick Ultra Awaken (7-28-4) plus 32 oz/ac of Makaze Yield Pro (glyphosate + 0.05 indolebutyric acid + 0.0088 cytokin) and is designated as Foliar 1. The second treatment consisted of 1.0 gallon/ac of Re-Enforce K (5-0-20) plus 3.0 lbs of Mangrow B (20% Manganese, 10% Sulfur and 5% Boron) and is designated as Foliar 2. Total volume of application was 16 gpa.
Hurricane Matthew's arrived into Eastern North Carolina just prior to harvest. Rainfall was excessive and floodwaters flooded the test site. As such, the field was abandoned due to potential contamination concerns. However, yield estimates were provided based upon counting soybean pods within three areas within each replication based upon the method outlined by Dr. Shaun Casteel, in the Purdue University publication Estimating Soybean Yields – Simplified 
The yields of Foliar 1, Check 1, Foliar 2 and Check 2 plots were, 40, 37, 38 and 36 bu/ac, respectively and are not statistically different. (ANOVA, Microsoft Excel, 2014). When combining all foliar fertilizer treatments, the average of 39 bu/ac is not statistically different from the untreated check plot average of 37 bu/ac ((ANOVA, Microsoft Excel, 2014).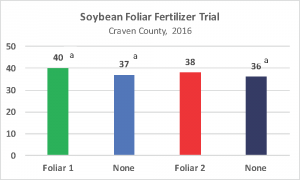 Email the author :  mike_carroll@ncsu.edu
Follow the author on Twitter:  @mcarroll_craven
Was the information on this page helpful?