2016 Soybean Production Break-Even Analysis
Using the 2012 NCSU Soybean Enterprise budget posted online (http://ag-econ.ncsu.edu/extension/soybean-budgets-0) total production expense for full-season, conventionally tilled soybean production without land rent (variable as well as fixed cost) is $272.62. Assuming an average land rent of $65/ac then total production is $337.62. At this total production cost and a price range of $8.50 to $9.50/bu, there is no profit for soybean production at any yield below 35 bu/ac. Within this price range, the best scenario is a $5.12 loss per acre at 35 bu/ac and $9.50/bu price of soybean. However, with an average yield of 40 bu/ac profit ranges from $2.38/ac at a price of $8.50/bu for soybean to $42.38/ac at a price of $9.50/bu of soybean. From this data, it is clear that soybean production should be limited to fields with greater than 35 bu/ac potential yield. Even so, care should be taken to ensure all necessary inputs are provided yet no additional expenses occur. Price, yield and potential profit outcomes (or loss) for yields ranging from 15-50 bu/ac of soybean and a price range of $8.50 to $9.50/bu is shown below.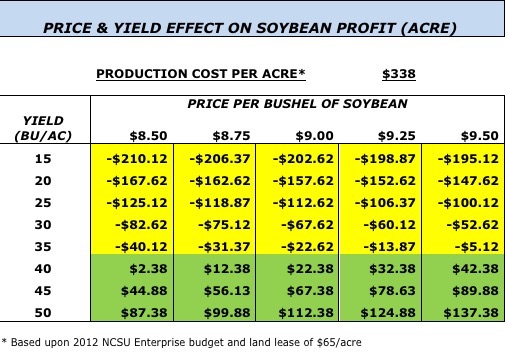 Was the information on this page helpful?