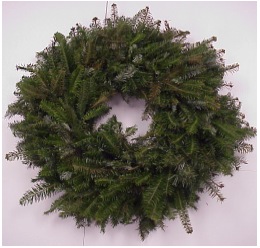 Craven County 4-H is already gearing up for the 2012 Holiday Season!  Our beautiful, handmade, Frazier Fir wreaths went on sale, Friday October 19th.
These wreaths come to us from Christmas Tree Farm on the border of the NC/VA Mountains and will make a lovely addition to your holiday decorating.  The wreaths are sprayed with Greenzit to help them stay fresh all through the holiday season.  Wreaths cost $20 and will be available for pick-up at the Craven County Agriculture Center on Thursday, November 28th!
Place your pre-order by Friday, November 9th and arrangements will be made to have your wreath delivered right to your door!  Call Wendy Paschal, 4-H Agent at 252.633.1477 to find out how to place your order, or download an order form from here.
You may also contact her by email at wendy_paschal@ncsu.edu. If you would like to see a sample wreath before placing your order, come by the Cooperative Extension office to see a sample after November 1st.  We are located at 300 Industrial Drive, New Bern NC  28562.